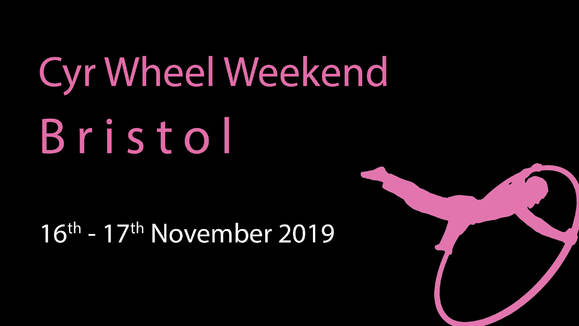 Bristol Cyr Wheel Intensive
Saturday - Sunday, November 16th & 17th, 2019
TIME
Beginners: 10am - 2pm both days
Intermediate/Advanced: 2pm - 6pm both days
(all classes have a 1-hour break in the middle)
VENUE
The Invisible Circus
Unit 15
Premier Business Park
Sussex St
Bristol
BS2 0RA
Come and join me for a weekend of cyr wheel spinning fun. Whether you are a pure beginner or fairly advanced doesn't matter, we'll work on your level.
- 6 hours of training in 2 days
- open to all levels
- large space (the hall is big enough so that everyone can spin at the same time)
- A limited number of wheels are available. If you don't own a wheel, get in touch with me
PRICES
£90 for two days
(£50 for one day)
BOOKINGS
By email to cyrwheelbristol@gmail.com. When signing up, please state the following information:
- Your name
- Whether you own a wheel or you need to rent one
- Your height
- Your level (tell me whether you've never touched he wheel, or what you've last been working at)
- Your mobile phone number
PAYMENT
Once you've signed up and to confirm your booking, I'll ask you to pay the full course fee.
COURSE CONTENT:
Depending on your level we will cover
- Basic waltz
- Technique of centred spin, cartwheel and coin
- Various tricks based on these basic moves
- Wheel manipulation
- Creative work to find your own styles and movements with the wheel
ACCOMMODATION
There is a possibility to hire cheap accommodation right next to the training space (in converted shipping containers). Get in touch if you're interested.
TEACHER
I started training cyr wheel nine years ago at a circus school in New Zealand and have since been performing with it all over the place. For the last 3 years I have been running cyr wheel weekend courses in Bristol and other places. If you want to know more, check out my webpage: www.pascalhaering.com
CONTACT
Pascal Haering
cyrwheelbristol@gmail.com
07534400992