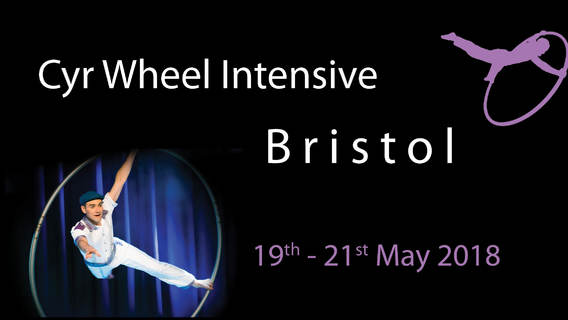 Bristol Cyr Wheel Intensive
May 19th to 21th, 2018 (Saturday - Monday)
Come and join me for 3 days of wheel spinning fun. Whether you are a pure beginner or fairly advanced doesn't matter, we'll work on your level.
- 9 hours of training in 3 days
- open to all levels
- large space (the hall is big enough so that everyone can spin at the same time!)
- A limited number of wheels are available. If you don't own a wheel, get in touch with me
- Additional unsupervised practice time
Beginners class
9.30am - 1.30pm (with 1hr break at 11am)
Intermediate / Advanced Class
2pm - 6pm (with 1 hr break at 3.30pm)
Prices
£50 for one day
£90 for two days
£120 for all three days
EARLY BIRD: £105 for all 3 days if booked before 30 April
Bookings
By email to cyrwheelbristol@gmail.com. When signing up, please state the following information:
- Your name
- Whether you own a wheel or you need to rent one
- Your height - Your level (tell me whether you've never touched he wheel, or what you've last been working at)
- Your preferred class (beginners or intermediate/advanced).
I will get back to you if I think the other class would be more appropriate for you.
Payment
Once you've signed up and to confirm your booking, I'll ask you to pay the full course fee. You can cancel up to three weeks before the course to get a full refund.
Course Content
Depending on your level we will cover
- Basic waltz
- Technique of centred spin, cartwheel and coin
- Various tricks based on these basic moves
- Wheel manipulation
- Creative work to find your own styles and movements with the wheel